I have NO IDEA what to get him. He wants the game Risk and for me to play it with him... but, I really have NO interest in that game... so I'm at a loss of what to get. Any ideas??? Email me-
hcsteffen@gmail.com
So, tomorrow his closest friend John-Micheal is coming up for the weekend! He is so beyond excited. So, I'm making Steak Gorgonzola Alfredo (the olive garden copycat recipe) for them. It should be soooooo good!
Then on Friday I have Tyler so we will all probably hang out here for a bit and then I'll let the two of them go see a movie (as long as they don't see one I've been wanting to see- doubt, the curious case of benjamin button, and i think there's one more that i can't think of...) and I will probably be here cleaning like a maniac.
Saturday, is Brian's actual birthday and John-Mike's girlfriend (weeeeeeeird) is coming up. We haven't met her yet so hopefully she'll like us! I'm sure we'll go to Fajita Grill since it's John-Mike's favorite. And then who knows what we'll do. It should be a good time. =]
I'll leave you with a picture of what I hope my dinner looks like tomorrow:
Oh! I forgot... we're having a couple people over for dinner tonight and I'm making Chicken Scampi.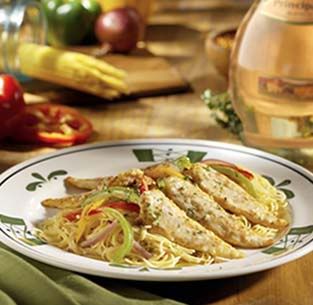 If I remember to take some pics of the finished products I'll definitely (see mom, i CAN spell it) post them!